TOPIC = Change Leadership, how do we get momentum going?


Explain organizational change processes from multiple role perspectives.
Appraise the effectiveness of change management efforts.
Demonstrate how to integrate specialist business skills into an overall organizational change program.
Demonstrate leadership in class discussion and small group assignments.
Demonstrate effective teamwork in class and small group assignments.
Apply effective conflict resolution skills in small group assignments.
Demonstrate respect and value for the diverse viewpoints and experiences in the classroom population.
Identify the ethnocentric values contained in the Canadian approach to Change Management.

Required computer hardware and software


WATCH = ICT in the Real World. (2011). Infobase. [22 minutes]

Assuming everyone did their homework, what did you learn about problem solving?
Go to kahoot.it

Dhiman, S. (2012). Hitting the bull's eye every time, all the time! In Marques, J. Dhiman, S. Biberman, J. Teaching leadership and organizational behavior through humor: Laughter as the best teacher. pg. 149-150.
"In your opinion, what is the underlying message of the story? Explain briefly."
"Give a brief example explaining the applicatino of this story for illustrating some concept of organizational leadership or strategy."

Read aloud to the class Mr. Roger's fable, "The Story of Planet Purple."
pg. 39-41.
Use the discussion points and questions from Chapter 8.
Mitroff, I.I. & Mitroff, D.D. (2012). Fables and the art of leadership: Applying the wisdom of Mister Rogers in the workplace. Palgrave. Pg. 45-54.
list item 2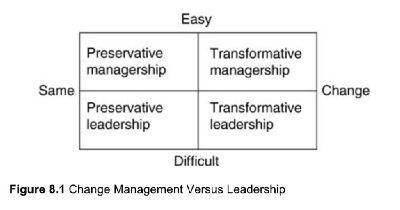 Mitroff Figure 8.1 Change Management Versus Leadership


Reeves, D., & Dixon, J. K. (2016). Chapter 6: Change. From Leading to Succeeding : The Seven Elements of Effective Leadership in Education (a Change Readiness Assessment Tool for School Initiatives) (1st ed.). Solution Tree.
File available in eLearn

Streaming video from my personal collection, which will not be available outside of classtime.
"Lecture 6:Resistance and Reactions to Change"
[30 minutes]
For the best synchronous live streaming, we will switch over to Zoom for this part of the class.



WATCH = Motivational Theory. (2017). Video Education America (VEA). [19 minutes]

Forum posting #1 = Activity: It helps to find examples
In this video, an example of a Blue Ocean Strategy is Cirque du Soleil completely reinventing the circus industry. https://youtu.be/NFLMiMdwnZY
What's another example you can share with the class of a Blue Ocean Strategy used to reinvent an industry?
Please provide at least one link to an information source (i.e. article, video, book, etc.) introducing and explaining your example to your classmates.
For more reading...
Blue Ocean Strategy: How to Create Uncontested Market Space and Make the Competition Irrelevant. (2014). QFinance: The Ultimate Resource.